Mini lift and mini elevators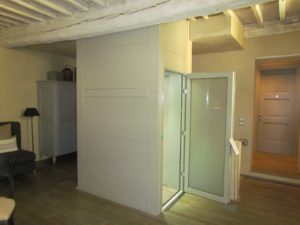 The platform lift MR 2000, the mini lift, is the answer Samer to the need of removing architectural barriers. Designed specifically around the needs of the customer, it presents a series of measures designed to ensure maximum comfort for the passenger, as well as maximum reliability and durability over time that result in lower maintenance costs and reduced component usury.
The MR 2000 is a "lift" with reduced speed comfortable to use because the activation is done automatically without having costantly to keep the button pressed. Various door models are available: a folding door slats (bellows), closing the door with return spring (semi-automatic) and automatic telescopic sliding doors (automatic).
A customized platform lift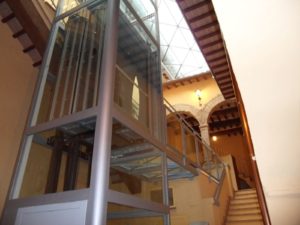 Numerous preparations, realized through the use of a wide range of materials and types of finishings, allow Samer to adapt the MR 2000 to all types of locations, from the most modern and functional to the more refined such as historical or artistic properties.
A strong point of the mini lift MR 2000 is the simplicity of installation in confined spaces and in not organized buildings. The platform is, in fact, designed and realized by adopting the logic of the real "custom-made", using every centimeter of available space.
In addition to providing all kinds of advice to the technicians selected by the customers, Samer can provide their customers a "turnkey" service. Contact us now to request a visit and a Free cost estimate. One of ours technical consultant will provide you all the informations and details required to install your mini lift.
For more informations about the product, consult and download the data sheets in Samer's brochure. Remember, it is also possible to choose different and customized solutions.